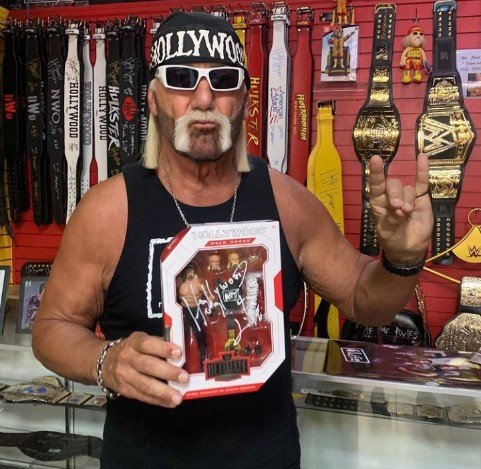 Sponsored Links
The WWE Famous Wrestler Hulk Hogan
Hulk Hogan is an American actor, wrestler and reality television star who has a net worth of $25 million. That net worth estimate includes his Gawker.com settlement which was initially $140 million but was ultimately reduced to $31 million, before taxes.
That number also takes into account the tens of millions Hulk lost as part of his divorce from ex-wife Linda. During his contentious divorce proceedings with Linda, we learned that the Bolleas were worth around $30 million in 2009.
Hulk was ultimately forced to fork over 70% of the couple's liquid assets, $3 million in cash to cover property settlements and a 40% ownership stake in his various business entities.
During his WWE career, especially when he was in his prime, The Hulkster earned quite a handsome amount. This shot up his net worth quite high.Now, he did not quite look into his finances until it was too late. Had he been careful about how he's spending his money, his net worth would have been higher today.
History/Early Life Story
Hulk Hogan was born Terry Eugene Bolla on the 11th August, 1953 in Augusta, Georgia. His family moved to Port Tampa, Florida, where he became involved in baseball.
An injury ended his baseball career, but not before he caught the attention of scouts from the New York Yankees and Cincinnati Reds. At 16 he began watching pro wrestling and looked up to Dusty Rhodes.
Hogan dropped out of college to play bass for the band Ruckus, which became popular in the Tampa Bay region. His band played in several bars, and his size caught the attention of Jack and Gerald Brisco, brothers who wrestled together.
The Briscos asked a trainer for Championship Wrestling from Florida to train Hogan. He began wrestling under the persona of The Super Destroyer before leaving the CWF. He then went on to wrestle in a duo called Terry and Ed Boulder.
Career
Hulk Hogan is most famous for being a professional wrestler with the WWF (now WWE). Hulk's popularity peaked in the late 80s and 90s when as many as 30 million people would sign up for a WWF pay-per-view event like WrestleMania.
But his career in wrestling began under much more modest circumstances, wrestling a match for the CWF promotion in Fort Myers, Florida in 1977, eventually adopting a masked character known as "The Super Destroyer.
After a local TV host compared Hogan favorably to Incredible Hulk star Lou Ferigno, the "Hulkster" character that would make him a star began to take shape, but it wasn't until he joined forces with Vince McMahon Sr. in 1979 that he started using the name "Hogan.
The following year, he began also wrestling in Japan while still with the WWF, but after taking the role of Thunderlips in Rocky III (a job that earned him a cool 15 grand as well as introducing him to a whole audience who may not have ever watched professional wrestling before) without McMahon's permission he parted ways for the first time with the WWF.
He came back in 1983 after McMahon's son took over the company with eyes toward more mainstream success for the sport, and he wanted Hogan to be the face of the company.
Hulk's Net Worth
His career was aided by his acting career, and by the Hulkmania that arose early in his career. Hulk Hogan's net worth of $25 million is reflective of his dedication to his craft, and the dedication of his fans.
| | |
| --- | --- |
| Net Worth: | $25 Million |
| Date of Birth: | Aug 11, 1953 (68 years old) |
| Gender: | Male |
| Height: | 6 ft 7 in (2.01 m) |
| Profession: | Wrestler, Actor, Film Producer, Musician, Television producer, Entrepreneur, Author |
| Nationality: | United States of America |
Personal Life Story
Hulk married Linda Claridge in December of 1983. They have two children together, a daughter Brook and a son Nick Hogan. After rumors of Hulk's infidelity, Linda filed for divorce in 2007.
At the time it was revealed that Hogan's personal net worth was $30. That's the same as around $40 million today. It was also revealed that Hulk had invested his money in several businesses and real estate around Florida.
Hogan still earns money from merchandise sales and residuals with his brand, Hulk Hogan.
Read Ronda's Net Worth And also follow us on Facebook