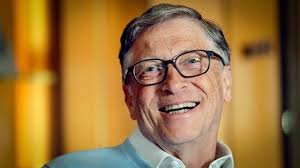 Sponsored Links
Bill Gates Net Worth
Bill Gates is an American business magnate, founder and former chairman and CEO of Microsoft, philanthropist, and author. As of this writing, Bill Gates' net worth is $122 billion. Over much of the last 20 years, Bill Gates has been the richest person in the world. He dropped to the second richest person in the world in July 2017 when he was overtaken by Amazon founder Jeff Bezos. Today he is consistently one of the five richest people on the planet.
Bill gates earned billions by anticipating the market's needs. Now, his philanthropic foundation is helping countless others across the globe.
Gates, who cofounded Microsoft with Paul Allen (d. 2018) in 1975, has transferred at least $5.7 billion worth of shares in public companies to Melinda.As of March 2020, when Gates stepped down from the Microsoft board, he owned about 1% of the software and computing company's shares.He has invested in dozens of companies including Canadian National Railway and AutoNation, and is one of the largest owners of farmland in the U.S.To date, Gates has donated $35.8 billion worth of Microsoft stock to the Gates Foundation.
William Henry Gates III was born on October 28, 1955, in Seattle, Washington. Gates was bullied as a child. He preferred to stay in his room where he would shout "I'm thinking" when his mother asked what he was doing. When he was 13, he enrolled in the private Lakeside prep school and he wrote his first software program.
He was in eighth grade during his first year at Lakeside and the school's Mother's Club used proceeds from a fundraiser to buy a Teletype Model 33 ASR terminal and time on a GE computer for the school's students. Gates became interested in programming the GE computer in BASIC. He wrote his first program a tic-tac-toe game, on this computer. Players played the game against the computer.
Eventually, Gates and his friends Paul Allen, Ric Weiland, and Kent Evans were banned from using the school's computer after they were caught exploiting bugs in the operating system to get free time on the machine. The four students formed the Lakeside Programmers Club to make money.
Career
when Allen showed Gates a magazine article about the world's first microcomputer, the Altair 8800. Seeing an opportunity, Gates and Allen called the manufacturer, MITS, in Albuquerque, New Mexico, and told the president they had written a version of the popular computer language BASIC for the Altair.
When he said he'd like to see it, Gates and Allen, who actually hadn't written anything, starting working day and night in Harvard's computer lab. Because they did not have an Altair to work on, they were forced to simulate it on other computers.
When Allen flew to Albuquerque to test the program on the Altair, neither he nor Gates was sure it would run. But run it did. Gates dropped out of Harvard and moved with Allen to Albuquerque, where they officially established Microsoft. MITS collapsed shortly thereafter, but Gates and Allen were already writing software for other computer start-ups including Commodore, Apple and Tandy Corp.
The duo moved the company to Seattle in 1979, and that's when Microsoft hit the big time. When Gates learned IBM was having trouble obtaining an operating system for its new PC, he bought an existing operating system from a small Seattle company for $50,000, developed it into MS-DOS (Microsoft Disk Operating System), then licensed it to IBM.
The genius of the IBM deal, masterminded by Gates, was that while IBM got MS-DOS, Microsoft retained the right to license it to other computer makers.
Bill Gates Profile
Some see him as an innovative visionary who sparked a computer revolution. Others see him as a modern-day robber baron whose predatory practices have stifled competition in the software industry.
| | |
| --- | --- |
| Net Worth: | $122 Billion |
| Salary: | $1 Million |
| Date of Birth: | Oct 28, 1955 (66 years old) |
| Gender: | Male |
| Height: | 5 ft 10 in (1.78 m) |
| Profession: | Entrepreneur, Programmer, Businessperson, Investor, Software Architect |
| Nationality: | United States of America |
Personal Life
In 1987, Melinda French went to work in the product development division of Microsoft. At some point, she and Bill were seated next to each other at a work dinner. They hit it off and Bill was soon calling Melinda to ask her out. Melinda eventually rose to the position of General Manager of Information Products. She stayed with Microsoft until 1996.Bill and Melinda married on a golf course on the Hawaiian island of Lanai on January 1, 1994. They have three children; Phoebe Adele, Rory John, and Jennifer Katharine.Gates purchased the Codex Leicester, a collection of scientific writings by Leonardo da Vinci, for $30.8 million at an auction in 1994.Gates and his wife combined three family foundations to create the charitable Bill & Melinda Gates Foundation in 2000, the largest transparently operated charitable foundation in the world.
On December 9, 2010, Bill and Melinda Gates and investor Warren Buffett each signed a commitment they called the Giving Pledge, which is a commitment by all three to donate at least half of their wealth, over the course of time, to charity.
Please kindly share it with you friends and family and don't forget to use the comments section below.https://facebook/9jabam